Welcome to Combat Live Laser Tag and Game Center, Sioux City
---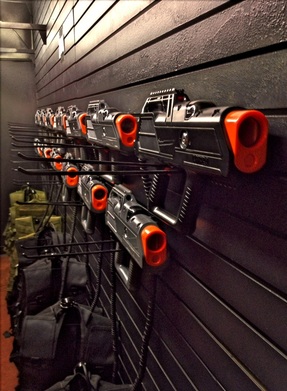 "Very cool. Kids lived it,. adults loved it." Rhiannon Stueve

*****
"Amazing realistic Laser Tag system with weekly rotating gun simulations. The gaming area is a great deal and has a variety of games. The staff is extremely pleasant and welcoming!" Amphone Nanthavong

*****
"Our kids loved it, great supervision and team working." Miranda Vint


---
Combat Live Game Center & Laser Tag
Hosting a 3,200 Sq ft arena, in a course that changes every week, we also change the game modes depending on our arena layout for the week.
Our gear is based of military training equipment, so not the typical "pew pew" or "zap zap" laser tag. The guns we use simulate 285 different weapons and we change the simulation every week. We also now have 11 Xbox Ones as well as five PCs that friends can come in and hang out on, playing together on some of the most popular multi-player games.
Types of Game's we Offer
At Combat Live Laser Tag we offer a few different game mode's to play we normally don't change it for open play but for those who do private parties we can change it up a bit. We offer Team Death match, Team Elimination, Capture the Flag,Blood Money, Predator, Battle Royal, Base Assault, Mystery Box, Juggernaut, Domination, and a Zombie mode for some occasions. If you have any questions about any of the game modes we have don't hesitate to ask.
Combat Live and what we're about.
Here at combat live we offer our guns out to friends and family to compete against one another or work together to take on another team. It's a place where you can come and have fun shooting one another without the pain or cost of paintball or airsoft, or relax and game with friends.